RIM opens up earnings season without a bang, misses analysts expectations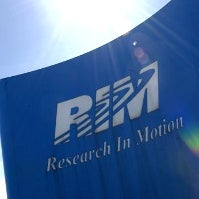 After resting on its laurels for about a year, RIM staged the biggest launch in its history, with
the first BlackBerry OS 7 handsets scheduled to appear on 225 carriers worldwide
.
Unfortunately the new phones were announced the last month of the second quarter in RIM's fiscal year, which ended up in August, so the sales of enticing new devices like the
BlackBerry Torch 9850
/
9860
haven't contributed much to the bottomline yet.
Analysts were expecting a bad June-August quarter, which, for the sake of coherence with the reports from other manufacturers, we'll refer to as Q3, although it's a month ahead of the rest and referred to as Q2 of the 2012 fiscal year according to the way RIM reports earnings. In the previous quarter RIM made $0.904 of operating profit before tax on $4.91 billion of revenue, which translated to 18.4% operating margin - more than anyone other than Apple and HTC can flaunt, but a slump from the mid-twenties a year ago. The Canadians cut 11% of their workforce, though,
to the tune of 2000 employees in July
, so the severance is reflected in the quarterly costs now.
For the June-August quarter RIM just reported revenue of $4.2 billion and income before taxes of $0.414 billion (net income was $0.329 billion), or 9.8% margin, with the last two numbers quite below the average analysts expectations. RIM's stock plunged more than 16% in afterhours trading immediately after the announcement.
Cash on hand diminished more than half
, from $2.9 billion, to $1.4 billion, largely due to the $780 million payout for Nortel's wireless patents, and also restructuring costs connected with the layoffs.
BlackBerry PlayBook
have been the disappointing 200 000 units. The company says 73% of the $4.2 billion of revenue came from hardware sales, i.e. $3.066 billion.
If we divide this amount to 10.8 million devices sold (we lump BlackBerries and PlayBooks together as 0.2 million tablets sold would hardly skew the numbers), we arrive at roughly $284 ASP, which is higher than last quarter.
The profit margin from this average selling price has plunged,
though, indicating that RIM needs to work further on costs. Co-CEO Jim Balsillie remained optimistic for the next quarter, citing strong sell through interest in the new BlackBerries with OS 7:
We successfully launched a range of BlackBerry 7 smartphones around the world during the latter part of the second quarter and we are seeing strong sell-through and customer interest for these new products. Overall unit shipments in the quarter were slightly below our forecast due to lower than expected demand for older models. We will continue to build on the success of the BlackBerry 7 launch to drive the business as we focus our development efforts on delivering the next generation, QNX-based mobile platform next year.