RIM gets touchy: BlackBerry Torch 9850 and 9860 announced
24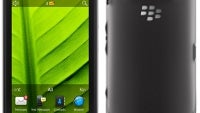 At its
press event in London
today, RIM outed all the details about its biggest global launch ever, to 225 carriers, of a fresh handsets crop with the brand spanking new BlackBerry 7 OS.
The new announcements included RIM's hyped all-touchscreen phone BlackBerry Torch 9850/9860, and the
BlackBerry Torch 8910
, a successor to the original Torch, which will be
exclusive to AT&T in August
.
The more interesting handset, however, is undoubtedly the BlackBerry Torch 9850/9860. Under the 9850 number it will appear with CDMA radio with Sprint and U.S. Cellular, while the GSM version 9860 will land on AT&T, Rogers, Tellus and Bell in North America, with HSPA+ radio inside. RIM touts the ergonomics of it all - the front sloping seamlessly to the edges they call the "waterfall", and it is indeed a refreshing shape in the sea of rectangular touchscreen handsets.
This new phone is a bold venture for RIM as we have the biggest display on a RIM device to date - a
3.7" capacitive touchscreen
with 480x800 pixels and... no physical keyboard, Storm-style, but without the SurePress thingy this time.
A 1.2GHz chipset plus 5MP camera with flash and HD video recording are rounding up the show as with the rest of RIM's BB7 OS crop. The internal memory is 4GB, expandable via a microSD card, and the battery will survive about 6 hours of talk time on both the 9850 and 9860 versions, as per RIM's specifications.
Moreover, the new BlackBerry 7 OS has been heavily-optimized for the all-touch experience, including redesigning the virtual keyboard, grouping the number and symbol keys under one button, and so on. Does the new all-touchscreen RIM handset tickle your fancy? Watch a short video walkthrough of the new BB7 OS features in the BlackBerry Torch 9860 below.
source:
RIM