RIM decides to discontinue the 16GB version of the BlackBerry PlayBook
4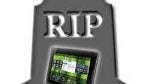 It's been one heck of a ride for the
BlackBerry PlayBook
, as it launched with a lot of
expectations last year
, but as we've come to see in the industry, it couldn't grasp the same success found with some of its competitors. For one specific version of the QNX-based tablet, we're saying farewell to it, seeing that it's now been given the
discontinued status
.
Specifically, RIM sent an email out to employees very recently highlighting the company's intentions of
discontinuing the 16GB version of the BlackBerry PlayBook
. However, they do point out that the existing 32GB and 64GB models
will still be available for purchase
. Before some of you go out to your local electronics retail store to see if any fire sales are going on with it, just know that this move simply means that stores won't be seeing any replenishment for its stock – meaning, stores will just continue to sell it at the current price until they're gone.
RIM specifically gives a clear-cut reason for the discontinuation, as they say that there is
more value found with the higher capacity models
. Indeed, it makes plenty of sense considering that 16GB is pretty paltry by today's standards – and it doesn't help that there isn't any storage expandability with the PlayBook.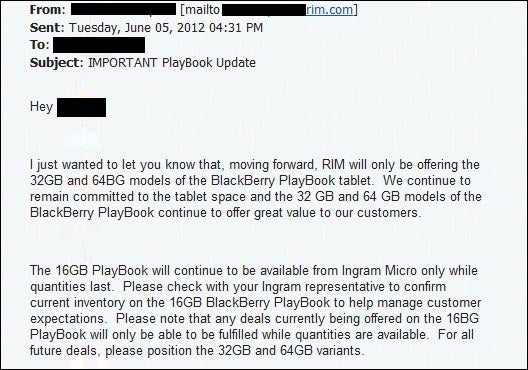 Furthermore, it begs the question on whether or not the upcoming
BlackBerry PlayBook 4G
will be available in 32GB and 64GB capacities – with no option for a 16GB version. Seeing that tablets are known to be house a ton of multimedia content, it wouldn't surprise us if RIM decides on not producing a base 16GB version of the PlayBook 4G. Therefore, if 16GB is somehow adequate enough, then you'd better head on over to a local electronics store and pick one up before they're gone for good.
via
CrackBerry