RIM CMO says 70,000 apps will be available at BlackBerry 10 launch
28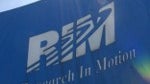 RIM CMO Frank Boulben recently sat down for an interview, explaining that he joined RIM for "
what could be the greatest comeback in tech history
." As the top man on
RIM's marketing totem pole
, Boulben explained his strategy heading into
the January 30th introduction of BlackBerry 10
. The first people he wants to get involved are what he calls the "
influencers
" or celebrities. Already, a tweet from noted BlackBerry fan Russell Simmons has the music mogel saying, "They are back!" after getting a private tour of BB10. Simmons was allegedly pushed into an Apple iPhone after being a 'Berry user for some time. Meanwhile, his brother, Rev Run from Run DMC, sent out a tweet complaining about all of the buttons on his iPhone and sent it to #missMyBlackBerry.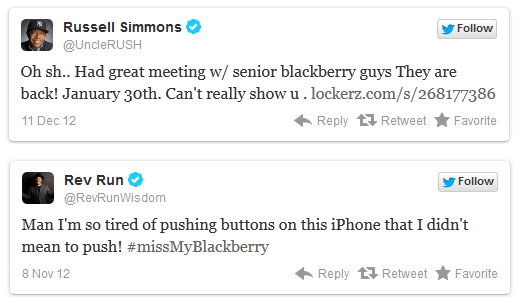 Tweets from mogul Russell Simmons and his famous brother
Boulben also says that the public will need to be educated on "
what the device is capable of, that is a fundamental aspect
." And according to the CMO, the new BlackBerry 10 device will have a
best in class browser
meaning that finally BlackBerry will have caught up to Apple and Android in the mobile surfing experience. When you consider where the BlackBerry browser was compared to mobile Safari around the time of the
BlackBerry Bold 9000
in 2008, it has been a great rally by RIM.
While we have already seen RIM show off Facebook, Twitter, LinkedIn, and Foursquare apps, Boulben says that there will be
70,000 apps
available for BlackBerry 10 at the time of launch. RIM CEO Thorsten Heins has already explained that
the number of apps available is not important
and that RIM hopes to have the top 200-400 apps available for each region when the new phones are released.
Sounds like RIM's CMO has a plan and that is more than half the battle. The braintrust at RIM sees a future, which is probably more than the feeling people got from watching the old crew operate.
source:
MobileSyrup