R.I.P: Motorola DROID?
This article contains unofficial information.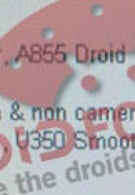 With the Motorola DROID 2 expected to launch sometime next month (after all, it is featured prominently in Verizon's Summer catalog), a leaked internal Verizon document shows that the original DROID is now considered "End of Life". This means no more shipments from Motorola are expected to replaced sold units. The original DROID lit a fire under Android and became the first handset offered by the nation's largest carrier that could keep up with the iPhone. In fact, Time Magazine named the device its Gadget of the Year for 2009, beating out the iPhone 3GS. For Motorola, it was the manufacturer's first bonafide hit since the RAZR. For a few weeks until the Nexus One launched with Android
2.1
, the DROID was the only phone running the 2.0 version of Google's open source operating system and that in turn started the current demand for Android models. The DROID is survived by it's brothers, the DROID X and the upcoming DROID 2.
Other devices on the list include the Motorola DEVOUR (bathtime is over), the Nokia 7705 Twist, the BlackBerry Tour-with or without camera, and the Samsung Knack, Intensity, Smooth and Saga.
Motorola DROID Specifications
|
Review
Motorola DROID 2 A955 Preliminary Specifications
source:
DroidForums
via
DroidLife