Qualcomm roadmap shows 2.5 GHz quad-core chips due next year
43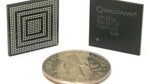 Faster is always better, and Qualcomm wants to be the manufacturer of the fastest mobile CPUs around. We already knew that quad-core processors were on the way: NVIDIA plans
quad-core Tegra tablets
by the end of this year, and phones next year; TI plans the same with
OMAP5
; and we saw a demo of Qualcomm's
quad-core Snapdragon S4 earlier today
. In July, we saw a
leaked version
of this same Qualcomm roadmap which had the S4 chips due out in the first quarter of 2013, but Qualcomm's official announcement has that time table pushed up significantly to next year.
Qualcomm has been slow to roll out all of this information. First, at the beginning of August, the company announced the
renaming of its Snapdragon series
, and gave a few details to the specs that would be associated with the S1, S2, S3, and S4 chips. Then, they gave out a bit more information on the makeup of the S4 chips and its
high-end gaming future
. Now, we're finally seeing the whole picture. As you can see, the S1 is for mass market smartphones and be single-core CPUs up to 1 GHz and an Adreno 200 GPU. The S2 is for higher end devices with CPUs up to 1.4 GHz, the Adreno 205 GPU, and support for HSPA+, and 720p video. The S3 is for multitasking and advanced gaming with dual-core CPUs up to 1.5 GHz, and the Adreno 220 GPU. And, the big monster S4 is for "next-gen" devices, which includes smartphones, tablets, HDTVs, and Windows 8 PCs, includes single/dual/quad-core CPUs up to 2.5 GHz, dual/quad-core Adreno GPUs, and the ability to create diamonds out of thin air.*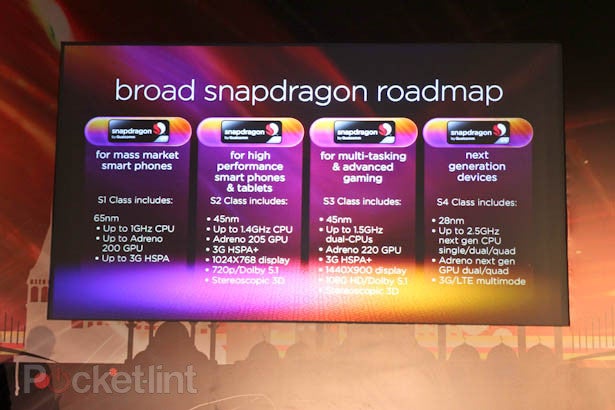 So, obviously, based on this roadmap the S4 is encompassing a much wider range of future chips than are included in any of the other classifications, but the S4 is also by far the most exciting of the bunch. And, if Qualcomm really can hit its mark and get the S4 to manufacturers by the end of this year for release next year, that would be a huge jump and put the Snapdragon out in time to compete with the other big guns (except Samsung, which has yet to announce quad-core Exynos plans.)
*Diamonds not guaranteed.
Recommended Stories