Qualcomm and Broadcom to meet on Valentine's Day to talk marriage
6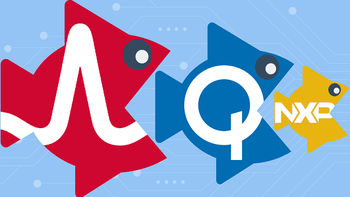 Qualcomm has told Broadcom that it has rejected its "best and final offer" of $121 billion
because of several factors. One is valuation. Qualcomm believes that it is worth more than a cash and stock bid of $82 a share. In addition, Qualcomm has stated that if a deal is agreed to and government regulators refuse to clear it, the company will be "enormously and irreparably damaged." As a result, the company wants to have a break-up fee in place that is higher than the usual 3%-4% of the transaction's value. Broadcom has reportedly agreed to an $8 billion fee, which is 6% of the deal's value.
As far as valuation is concerned, Qualcomm Chairman Paul Jacobs, in a letter to Broadcom CEO Hock Tan, suggested that both sides sit down to discuss the pricing of the transaction. Jacobs believes that Broadcom's offer of $60 in cash and $22 in Broadcom stock, doesn't reflect Qualcomm's potential $38 billion acquisition of NXP Technologies. An approval from Chinese regulators is all that is needed to start the process of closing that transaction. And now, both sides have agreed to move this battle to the bargaining table.
Ironically, Qualcomm and Broadcom will meet this Wednesday, February 14th, which is Valentine's Day. Even if both sides can't come to an agreement, Broadcom will continue with its proxy fight for control of Qualcomm's board. Voting will take place on March 6th. Both firms are meeting with proxy advisory firms ISS and Glass Lewis prior to Wednesday in an attempt to wrangle a recommendation from both. Recommendations made by these firms could lead funds holding millions of Qualcomm shares to vote in favor of the current board, or to vote for the slate nominated by Broadcom. If the latter nominees win, Broadcom will control Qualcomm's board and vote in favor of the takeover bid.
Qualcomm is known for its Snapdragon line of mobile chips used on by just about every smartphone manufacturer. Thanks to legal issues it has with Apple,
the 2018 CDMA iPhone models will not employ Qualcomm's modem chip
as they have in the past. Instead, Intel will most likely be the exclusive provider of this component even though Qualcomm has delivered a superior chip over the last few years. Apple isn't expected to change its position, even if Broadcom buys out Qualcomm.
source:
Reuters