Quad-core Asus Transformer 2 may be released November 7th
18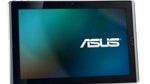 The last time we heard about the Asus Eee Pad Transformer 2 it was because Asus was confirming that it is set on pricing the upcoming
tablet at $500
, and that is some pretty good news. But, in light of some possible new developments, that price may be even more impressive. Asus CEO Jerry Shen had also said that the company is planning to release the tablet before the end of the year, and that looks to be confirmed by UK retailer LambdaTek.
LambdaTek has posted a listing for the Transformer 2 on its website as model TF201-1I020A with a release date of November 7th, which would certainly hit the release window that Asus mentioned. The posting also has a list price of £448, which is in the range that a $500 tablet might be listed in the UK. The listing even gives specs including a quad-core Tegra 3 CPU, 32GB storage, 1GB RAM, and Android Honeycomb (3.x).
It seems a bit crazy that we wouldn't have seen more leaks about a tablet of this magnitude, especially if it's supposed to be released in less than a month, but that would definitely be a very nice surprise.