Punkt's next minimalistic phone to support 4G LTE and run on Android
3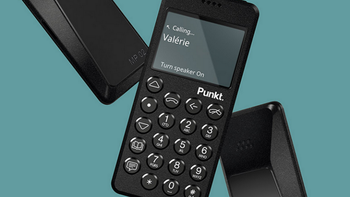 Unveiled back in 2015,
the Punkt MP01 is a feature phone that is simple to use
. There is no internet connectivity, no apps to install, and a battery that Punkt says you need to charge every now and then. The phone looks like the calculator you used for your Algebra finals back in the day, and has a display smaller than the one on an Apple Watch. But it offers great build quality and the things the Punkt MP 01 does, it does well.
On September 17th, the Punkt MP 02 will be unveiled, and this new model will support 4G LTE connectivity. While the MP 02 will run on Android, it will also come with BlackBerry Secure technology. The phone also features threaded messages with a user-defined dictionary.
Like the original model, the Punkt MP 02 is made for phone calls. While this model will offer the internet, Punkt says that the web will be "viewed via a sensibly-sized screen." We should see the complete list of specs released at the London Design Festival on September 17th when the latest Punkt handset will be unwrapped. The company says that pre-orders will begin immediately following the unveiling.