Keeping it simple: these basic phones will claw back your life... and that of your kids
20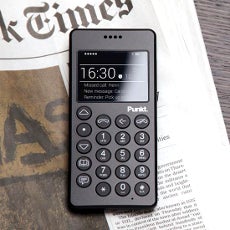 Haven't you wished sometimes that your smartphone didn't exist, and you didn't have to be constantly present at all times, distracted by chat notifications, push emails, news feeds or location awareness?
Just good ol' calling and maybe texting, thank you very much. While it's hard to completely unplug, having in your pocket only gear that can make calls or text does help overcome the overconnectedness of your daily existence. Phone calls are more engaging than shooting off chats, and messaging has no read receipt or doesn't have to be answered immediately.
Those will make you think twice before you reach for the phone, and that's the whole point of the simple, most basic handsets that have proliferated lately, be it as designer products, or crowdfunding endeavors. A few of them are certainly worth your attention, that's why we are listing the simplest of phones that have come up on the mobile scene lately to check out.
The premise of Punkt's MP01 is to simplify the relationship with your phone to the bones, and still look good in the process. At $300, it's one of the most expensive basic phones you can get, but the boutique designer creation aims for it to be an integral part of your life, not a cheapo basic handset to discard when you see fit. It's made with quality camera paint finish and Gorilla Glass screen, features ergonomic design of the back to aid your grip, and has a clear, text-based interface only.
Punkt promises "no status updates, notifications or multiple alerts," just simple calling and texting, and that's that. You can still connect a Bluetooth headset to it, or use a built-in speaker. The phone maker prides on the call quality in the earpiece, the noise cancellation mics, the powerful audio from the speaker, and the long-lasting battery. The goal is, well... Punkt. One of the meanings of the word is to pinpoint, to focus on what matters the most in your communication, instead of having to endure 15 smileys in a row from someone explaining what a great taco they just had.
If you want to keep tabs on your child, bit still let it be a kid, the Tinitell wrist phone will come to the rescue. Built into a durable, water-resistant housing, it comes complete with its own microSIM slot, mic, speaker, GPS chip and accelerometer. The Tinitell lets your kid call you with the push of a button, and even sports voice recognition software, so that they can simply say "Call Mom!", instead of fumbling around with dials.
The adjacent iOS and Android apps can host up to 12 contacts which are authorized to get in touch with the Tinitell on your kid's wrist, and call them back for lunch, for instance. The app also lets you track the whereabouts of your kid on a map, which you can also do from Tinitell's website, and the battery will last for a week on standby, or offer an hour of continuous talk time with your offspring. A simple solution for the recent conundrum how to reach your kids easily short of getting them a smartphone on which they'll play games, instead of playing outside.
The Light Phone is scheduled to start shipping after the spring, but we are giving you a heads-up about its existence, as it is the most basic handset you can imagine, meant for calls and calls only. You can connect your smartphone with the Light Phone via an app to forward calls if you wish, though. As a stand-alone device, it will come with a pre-paid SIM and 500 minutes of talk time.
The Light Phone is the size of a credit card and nearly as thin at 4mm. Since it is a single-purpose device, even with a small battery, expect a charge to last about 20 days, while the phone will ship with only a charger, and that's that - whether as a standalone calling device, or a perfect companion to your bulky smartphone, the Light Phone sounds like a good save for those who want to keep communication as simple as it gets.