Proxy advisory firm recommends siding with Apple against Icahn
8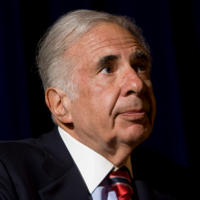 On February 28th, Apple stockholders will vote on a proposal by investor Carl Icahn that Apple buy back $50 billion worth of its stock. Icahn, who owns more than $4 billion of Apple shares, originally wanted Apple to buy back $150 billion of its stock before cutting his demands. ISS says that the proposal would "micromanage the company's capital allocation process."
ISS didn't let Apple off the hook, however, addressing Apple's failure to let stockholders know its long term plans for its cash hoard, which is up to $160 billion. It isn't like CEO Tim Cook has been opening the vault to jump through all of the money ala Scrooge McDuck. As Cook recently pointed out,
Apple has repurchased $14 billion in stock over the last couple of weeks
, taking advantage of
the huge drop that the shares had
after Apple sold 4 million fewer iPhones than Wall Street expected last quarter. For the last year, Apple has repurchased $40 billion of its own stock, a record for any company.
Besides ISS, smaller proxy advisory firm Egan Jones also recommended that stockholders vote against Icahn. The investor is hoping that Apple buys the shares, which would cancel them. That lowers the number of outstanding shares, marking a shift in the supply-demand balance. Those investors who borrowed Apple stock and sold it in hopes that it would fall (a transaction known as selling short) might feel pressure to return the shares they borrowed by buying them back in the market, a process known as a short squeeze. Lastly, by removing $50 billion of Apple's stock outstanding, certain metrics used by fundamental investors, such as the P/E ratio, would be affected, making the value of Apple's stock look cheaper by certain standards.
The bottom line is that Icahn wants the stock to rise so he can sell his shares at a profit. Like any merchant with a product to sell, he needs to create demand for the stock so he can have it taken off his hands.
source:
MarketWatch
via
AppleInsider