Prove you are a real Fallout fan with the official C.H.A.T. keyboard extension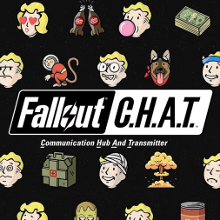 There is no better way to convey for all your Whatsapp, Facebook, Viber, Skype and so on buddies that Fallout 4 has been released than a custom keyboard extension. Yep, such a thing exists, and it's called Fallout C.H.A.T - a custom Android keyboard extension from the makers of Fallout, Bethesda Softworks.
Just like
their Pip-Boy app
, Fallout C.H.A.T aims to immerse you further in the surreal wasteland universe of the game. It is not a standalone keyboard replacement per se, though it does have the unique typewriter-style skin and the specialized Vault-Tec Communications Hub and Transmitter font.
You can type messages with this font, adorn them with a dedicated set of stickers or GIFs, and shoot the Fallout-stylized message via your favorite chat program of choice with the "Ok" button. The Fallout C.H.A.T is a tad heavy on resources, but it does recreate the unique Fallout communications atmosphere, so if you are a fan of the game, head over to the source link to check it out.
| | |
| --- | --- |
| Developer: Bethesda Softworks | Download: Android |
| Category: Entertainment | Price: Free |