Promo material confirms HTC Leo for O2, handset free on some plans
This article contains unofficial information.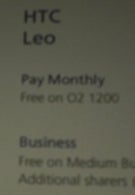 Why, it wasn't that long ago when we
told you
that the HTC Leo (aka HD2) was set for an October 12th launch at O2. If that wasn't enough to make you leave the States, move to the UK, drive on the left, gain an accent and talk non-stop about the Queen, there is some new info. A tipster for Engadget turned over some promo materials for the launch. First thing you will notice is that the device is called the HTC Leo on some of the material. If the brochure is not dated, looks like we finally have a winner in the name game. And get this, if you sign up for an 18 month contract (that is less than 2 years for the math impaired) for the O2 1200 tariff (a plan that costs 45 BP or the equivalent of just $72 USD a month), the device is free. Start making sure your passport is valid and don't forget to buy Cricket for Dummies...the HTC Leo is so close to being yours that you can taste it-and the fish and chips you will learn to eat.
HTC Leo Preliminary Specifications
source:
EngadgetMobile