Pricing announced - Samsung ATIV Odyssey launching on Verizon January 24th
21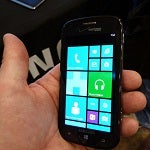 Better late than never, right? If you have been waiting for Samsung's Windows Phone entry in the US, it is possible you will not be waiting much longer.
Samsung ATIV Odyssey
will be available on Verizon January 24th. The 24th is a Thursday which is a common day for new devices to be available in the corporate stores. We got to take some
hands-on time with the ATIV Odyssey
at CES and while the device has specifications that are marginally below the Nokia Lumia 822, the Odyssey is tidy little device.
Its 4-inch screen and form factor makes it comfortable to hold and use with one hand. The Odyssey has a nice sized battery too, which means that this Windows Phone entry is going to be a capable handset for anyone who uses it. With a 5MP camera, 4-inch screen, 2,100mAh battery and Windows Phone 8, we think the ATIV Odyssey will price for free on a two-year contract with Verizon.
sources:
@evleaks
(Twitter) via
WPCentral
UPDATE:
Verizon announced today that the Samsung ATIV Odyssey will indeed be available in stores and online starting tomorrow the 24th. Verizon also announced the subsidized price point for the ATIV Odyssey and a two-year agreement: $49.99 after a mail-in rebate. That takes us a little by surprise given how the specifications of the device line-up against the other Windows Phone offerings available on Verizon, especially the Nokia Lumia 822. However, its 4-inch screen, slightly larger battery and overall shape make the ATIV Odyssey a little more pocketable, and that may find appeal with a number of consumers along with the Samsung name as well. Is the Samsung ATIV Odyssey on your list?
source:
Verizon