Samsung ATIV Odyssey hands-on
6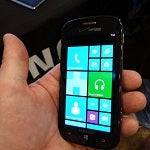 The Samsung ATIV Odyssey Windows Phone finally made an appearance, and at CES no less.
Since we know a lot about this device already
, and given the other notable announcements made at CES so far, the ATIV Odyssey's appearance could be easily overlooked. It did not escape our eagle eyes though as we browsed through many displays on the "press day" of CES.
The Samsung ATIV Odyssey is an entry-level Windows Phone. It is built with the same form factors that exist on other Samsung devices, volume rocker on the left side, removable back plate and Super AMOLED display. The Odyssey is very comfortable to hold in the hand, it is light-weight but does not feel cheap. The display is 4-inches, WVGA 480x800 resolution. Underneath is the standard 1.5GHz dual-core processor and a 2,100 mAh battery.
In the hand, the screen size is smaller compared to most other smartphones out there, but overall design is comfortable to hold and is easily pocketable. The ATIV Odyssey has all the features of the Windows Phone experience, however, on the hardware end, NFC and
wireless charging
are not present. The camera is 5MP. In addition to the Windows Phone experience, Samsung has a couple of their own apps on board, Samsung Now is a centralized weather, news and stocks app and is nicely laid out. Samsung Mini Diary is a note app with the ability to record location and draw sketches as well.
Samsung did not offer an official release date or expected price for the ATIV Odyssey, but we know it will be positioned at a lower price point than the Nokia Lumia 822. If you have been waiting for the Samsung Windows Phone entry on Verizon,
it looks like you will not be waiting much longer
. Check out the pictures below, and stay tuned for when we upload the video for the Samsung ATIV Odyssey.