Predictive text misunderstanding causes a man to fatally stab his friend
17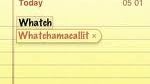 There's no denying that certain text messaging conversations can be taken way out of context by other people, but unfortunately for one individual, it proved to be fatal.
Thirty-three year old Neil Brook of Salford, northern England was apparently joking around with his 27 year old friend and neighbor, Josef Witkowski, by sending a series of text messages to him. However, when Brook decided to send a message that would contain the word "
mutter
," which is a local colloquialism for a person who behaves in an anti-social or vulgar manner, his phone's
predictive text function
used the word "
nutter
" instead. Essentially, the message sent to Witkowski read, "What are you on about nutter?" Well, the word "nutter" is a derogatory British slang word for "
deranged
."
Rather than brushing it off, Witkowski was apparently enraged over the message that he decided to head on over to Brook's apartment with a knife on him. Upon arriving though, Witkowski was actually attacked by Brook and it ultimately proved to be fatal for Witkowski as he died from the
104 separate injuries
he received during the attack.
Brook was later convicted of manslaughter and the judge overseeing the case said, "Obviously, the sentence will be a long one."
As much as some people would blame the predictive text messaging function, it's of course the misunderstanding that ignited the quarrel to another level. Still, you just can't take every text message conversation too literally because you can never know for sure how the other person is actually feeling.
source:
new.com.au
via
Textually