Pre-orders for the Samsung Galaxy Player will go live starting on February 4th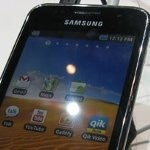 Sure there is no arguing that the Samsung Galaxy S is competing very well on its own against Apple's behemoth, but there are still very few opponents that can compete on the same level as the iPod touch.
As we
reported
, the Samsung Galaxy Player (YP-GB1) is positioning itself to be an attractive option, but now it looks like pre-orders for the Android powered PMP device are going to be available very soon.
Starting on February 4th
, just a few days from now,
pre-orders will go live
for both the 8GB and 16GB flavors of the device – which are priced at 399,000 won ($356) and 495,000 won ($442).
Basically a Samsung Galaxy S smartphone minus the phone functionality, the Galaxy Player will surely prove to be a strong competitor in South Korea when it launches some time in the
middle of February
. However, there are some minor differences between it and the Galaxy S – like its 4" Super LCD display and
3.2
-megapixel camera.
source:
Samsung Hub