Pre-orders for Nexus 6 to officially begin October 29
28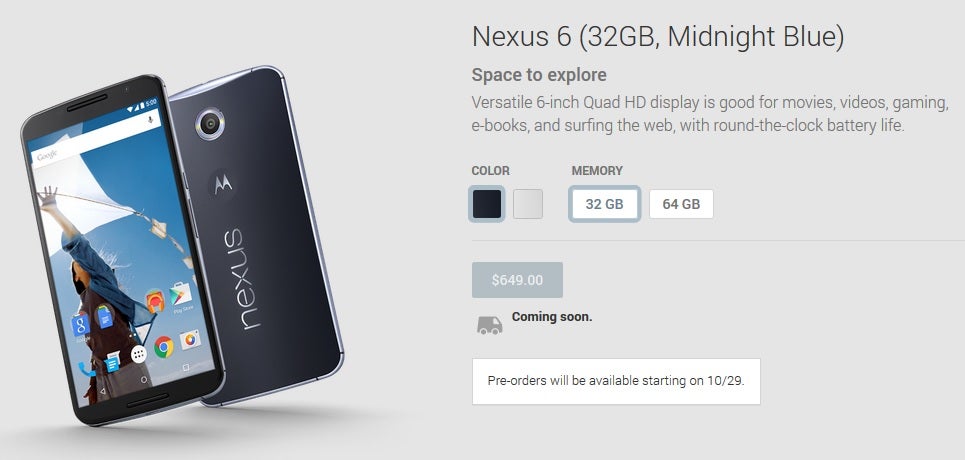 Google has quietly placed a pre-order date for the new
Nexus 6
smartphone in Google Play, and that time is a short-but-long 9 days away. Set your reminders to log-in, and check Google Play on October 29th to place a pre-order for either a 32GB Nexus 6, which will cost $649 SIM-free, or $699 for a 64GB model.
The Nexus 6 will also be available through
the top five carriers
in the United States, AT&T, Sprint, T-Mobile, US Cellular, and Verizon. It is safe to assume that for all but T-Mobile, the carriers will have a subsidized pricing option available with a two-year contract. No pricing has been formally announced yet, but given the spec boost over Motorola's own
Moto X
, which has a two-year price of $99 on AT&T and Verizon, it is not a reach to think the Nexus 6 will have a $200 subsidized price.
The Nexus 6 is Google going big with Motorola, presumably the last major release by the company before it shifts ownership to Lenovo. A pure Android device, the Nexus 6 will pack the new Android 5.0 Lollipop operating system out of the box, present the eyes with a 5.96-inch 1440x2560 AMOLED display with a 16:9 aspect ratio, snappy performance with a Qualcomm Snapdragon 805 CPU, and pretty much top-of-the-line everything else.
While there will be a North American and International variant of the Nexus 6, both will support just about every carrier frequency band from top-to-bottom. The Nexus 6 also features new rapid charging technology, dubbed the "Motorola Turbo Charger," which can provide several hours of usage with just 15 minutes of being plugged in.
No official release date is posted at the time we are writing this, but it has been reported that the Nexus 6 will drop on November 12th. The Verge reported earlier about pricing and the pre-order date, and those two tid-bits have proved to be spot-on.
Which color Nexus 6 are you going to grab? Midnight Blue, or Cloud White?
source:
Google Play