Pre-orders for Motorola Moto X and Moto Hint to start on Tuesday; more Moto 360 watches coming
35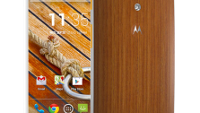 If you've been wondering when you might be able to pre-order the
Motorola Moto X
, wonder no more. Motrorola announced today that it will start accepting pre-orders for the phone this Tuesday, September 16th. The Motorola.com site will be open for pre-orders starting at 11am CT. At that time, consumers will be able to reserve the AT&T version of the Motorola Moto X, and
the Motorola Moto X Pure Edition
. This model, available for $499.99, is SIM unlocked, comes with an unlockable bootloader, and can be purchased off-contract.
On Tuesday, you will also be able to pre-order the Motorola Hint for $149.99., This is a wireless earbud that allows users to control their handset using voice control. Also available for pre-order is the Motorola Turbo Charger. Using this charger with one of the latest Motorola phones, will allow you to get up to 8 hours of battery life in just 15 minutes. The Turbo Charger is priced at $34.99.
The Moto Maker site is also getting a few changes on Tuesday. A new rendering engine will show you a more realistic look at the phone you've designed. And you will be able to compare several of your designs side-by-side. Or, compare your handiwork with several options designed by Motorola. There will also be some new leather and wood finishes available.
Motorola also announced that more stock of the sold out Motorola Moto 360 smartwatch will also be available at Motorola.com starting on Tuesday.
source:
Motorola
via
AndroidandMe