PowerSkin BlackBerry Z10 Battery Case hands-on
6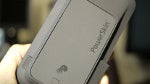 Something we've checked out numerous times before,
PowerSkin
is simply one of the go-to companies if you're looking to get an extended amount of battery life with your smartphone. In this particular instance, we're getting down and dirty with the one made specifically for the
BlackBerry Z10
, which should please those of you out there that managed to pick up the smartphone in question very recently.
Like the many others before it, the
PowerSkin BlackBerry Z10 Battery Case
is a familiar looking thing, as it employs that distinct soft touch finish. Of course, it's nice that the case gives off a very
grippy feel in the hand
– and not to mention an overall clean finish that does okay to repel any fingerprints and smudges. However, the one drawback that continues to persist with this specific case, is that it turns the fairly streamlined smartphone to a
beastly sized thing
. Forget about making a minimal impact on your pockets folks, seeing that this packs on quite an amount of heft!
Around the edges of the case, there are cutouts for the volume control and power button, but unfortunately, they're too flush and don't have that great of a feel. Towards the left edge, there's this strange hump that seems to be out of place. Well, it's partly how PowerSkin is able to connect the Z10 to the case's built-in battery. In fact, prying off the case reveals a microUSB cable that's required to be attached to the smartphone, which kinda seems wonky, but hey, that's the implementation they decided to go with. Flip it over, the actual microUSB port of the case allows us to simultaneously charge its internal
1,500 mAh battery
and the Z10. Wondering how much juice is stored in its battery? Well, all you have to do is press the flush square sized button in the rear, which then lights up any of its 4 blue LEDs to indicate how much is left.
Interestingly, the one unique feature of this case is that it packs along its own
NFC chip
– so we can continue to use the functionality as we please, as opposed to blocking it. For
$80
, some won't mind dishing out the money to get on-the-go charging, and at the same time, you'll be permitted to use the handset's NFC functionality.
More PowerSkin cases to check out