PowerSkin Gaming Case for iPhone hands-on
6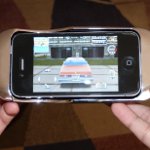 There's no kidding that smartphones are increasingly becoming the destination for many hardcore gamers, especially when the quality to titles are seemingly inching ever closer to the level that we see on popular handheld gaming consoles. Well, if you happen to own and iPhone or iPod touch, you'll especially take a liking in looking at the
PowerSkin Gaming Case for iPhone
. Essentially, it's a
gaming centric case
that accommodates the iPhone 4 and 4S, but the beauty of it all, is that is emulates the experience that we're accustomed of receiving with a traditional home console.
First and foremost, the case transforms the sleek and slender iPhone (4 or 4s) into a massive, heavy, and bulky device. It might not try to hide its
girth
, but in making up for its lack of sleekness, the case is perfectly attuned to the needs of gamers with its wide body – allowing a good amount of room and grip for our hands. Internally, the case tucks away a beefy
2,050 mAh battery
that's surely enough to juice the handset during those long days of playing games. Additionally, it features
two internal speakers
of its own, and a
force feedback system
very reminiscent of what you find on any home console controller.
Checking it out quickly with a racing game, we definitely like how the entire thing rumbles whenever we smack something with our car – plus, the case also
rumbles
to the beat of the background music. There's a button on the bottom
edge
that quickly allows us to modify the vibration level from low, medium, and high, but if we want to turn off the vibration feature completely, there's another button that does just that. Complementing the case, there are
LED lights
that line the case's volume controls to indicate that the case is actually on and active – well, it's more like a flashy visual thing to capture the attention of wandering eyes.
All in all, the PowerSkin Gaming Case for the iPhone is definitely something that veteran games will probably want to check out, but be warned, it'll cost you a pretty hefty capacity – then again, it packs the usefulness of being able to charge your handset on the go. Yes, it's rather up there at
$89.99
, but when you think about its features, it's undoubtedly on par to some other similar things out there; like
Mophie's range of battery charging cases
for the iPhone.
source: PowerSkin (
1
&
2
)