Wireless charging: inductive or conductive?
7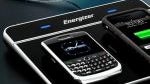 There's a reason the term 'wireless' has so many positive connotations. Wires are messy, unsightly, and downright annoying. So why hasn't
wireless charging
really caught on? One problem is that devices require aftermarket backs in order to function with these chargers. Another problem is that manufacturers haven't decided on a charging standard.
There are two primary types of wireless charging: inductive and conductive. Inductive chargers use an electromagnetic field to transfer wireless energy across a gap, and into the device's battery. The aftermarket backs for inductive charging include an induction coil, which is capable of receiving the wireless energy. Conductive charging, on the other hand, works with direct electrical contact between the power-source and the battery.
The
WildCharge Pad
from PureEnergy Solutions, released three years ago, is a conductive charging solution. It is covered with conductive panels that connect with similarly conductive materials on your devices' aftermarket backs. Duracell, Powermat USA, and RadioShack have since followed suit with their own conductive wireless charging pads. The downside to conductive charging is that you can't build the panels into other materials, like desks or airline tray-tables.
Inductive chargers, on the other hand, have gained greater support from device manufacturers. OEMs like Samsung, LG, RIM, and Motorola are part of the
Wireless Power Consortium
, which backs the inductive Qi (chee) standard. Because they use induction, they wouldn't be dependent on a conductive surface, allowing them to integrated under any number of other materials. One such example is
Energizer's Inductive Charger
. The Wireless Power Consortium hopes to make Qi compatibility a standard feature of future devices.
We should give credit to Palm, which introduced the
Touchstone
inductive charging dock for their Pre devices, and the upcoming
HP TouchPad
tablet. The greatest advantage of Palm's solution is that the inductive back doesn't change the appearance of your device. We think that increased adoption of wireless charging will depend on similarly seamless designs, in place of clunky aftermarket backs.
source:
The Wall Street Journal