Possible Nokia smartwatch caught on camera
9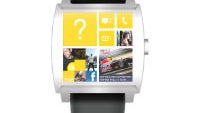 There have been rumors that both Nokia and Microsoft have been working on smartwatches separately, and work likely won't be stopping on either side as the acquisition process is in the works. Now, we're getting what may be the first look at a smartwatch in the works by Nokia. Although there isn't a lot of information that can be gleaned from the image.
First of all, there are real concerns that this image is a fake. The design doesn't look like a Nokia device at all, which could be due to it being a prototype, but even prototypes usually have some aesthetic touches that call back to the company's design tendencies. The other thing is just how sloppy the device looks. The watch strap holes aren't evenly spaced, or lined up properly. Again, this could be because it is a prototype, but it certainly doesn't inspire confidence.
If this is the real deal (and we are highly skeptical on that), it doesn't look interesting at all. We'll assume that the smartwatch will eventually be running a modified version of Windows Phone, and that could also explain a bit of what we're seeing. If Microsoft isn't too far along in the process of adapting Windows for smartwatches, that would give Nokia less incentive to put much effort into building the watch.