Poll results: stock Android, third-party launcher, or the manufacturer overlay?
8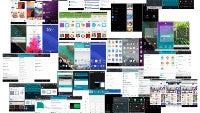 Every once in a while, a new launcher appears that promises a paradigm shift in interacting with our mobile devices, utilizing innovative gesture-based or side-sliding launch tech, and some of them are even donning amazing graphics and extra functionality. If you put enough time and effort, you can tailor every Android phone to serve your unique interests and interface layout, and third-party launchers like Nova, Apex and the like, have proved it time and again.
Not everyone is into putting time and effort into interacting with their Android, though, as most of them ship with some kind of manufacturer overlay out of the box, be it TouchWiz, HTC Sense, LG UX, Xperia UI, MIUI and so on. These phone maker interfaces often add a ton of extra features and customization options, and yet a lot of people don't mind having their Android with the stock and uncluttered interface, as on Google's Nexus devices, which ensures timely updates.
That is why we asked you last week which camp are you in, and whether you prefer your Android stock and bare, pimped up with a third-party launcher, or think that the manufacturer overlays are already sophisticated enough for your needs. Well, we've rarely had such an even split in a poll. Granted, the stock, Nexus-style Android interface grabbed the most 39% of the votes from our 1834 respondents, but with a pretty small lead before the manufacturer overlay, or the third-party launcher crowds, showing that many people are content with whatever ships on their phone out of the box, really.