Poll results: Would you switch to a 5.5" phablet like the OnePlus One, if it offers you flagship specs at half price?
24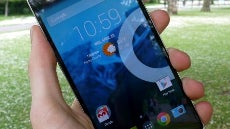 The
OnePlus One
shook our conceptions about how much phone should we get for our cash as much as Google's Nexus line did, if not more. However, it's still a rather large handset, with a size that, despite the proliferation of phablets, can't be called mainstream. Granted, the unbridled success of Samsung's Note series proved that phones like the 5.7"
Note 3
can still be extremely popular, and not only in Asia, where big-screen handsets rule.
That's why we asked you last week would you consider getting a much larger than average handset, if it has the flagship specs of the OnePlus One, offered for its midrange $300 price tag without subsidies. The answer is not unequivocally yes, yet 42% of the 4694 respondents checked that they will get the OnePlus One as soon as it becomes available, while 41% will wait for a review or two, and then ponder snatching it. Just 16% are firmly against trotting a 5.5-incher everywhere, despite the breathtaking value-for-money proposition. This only goes to show that should OnePlus decide to issue a more compact phone with the same price-to-specs ratio, there would barely be enough distribution to satisfy the demand. Hopefully the folks from OnePlus are considering such a handset as their next project.