Poll results: Samsung Galaxy Note II is here – do you like it?
22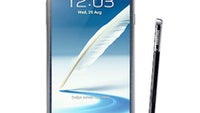 It ain't easy being a smartphone geek. There are so many cool devices to pick from, and even better ones are being announced almost on a weekly basis. Like last week, for example, the
Samsung Galaxy Note II
was unveiled, and we bet that some of you have already put it on their wish list. About 1089 of you, to be more precise, judging by the results from our recent poll.
We asked you whether you liked the new Sasmsung Galaxy Note II, or it did not quite meet your expectations, and over 62% of those who participated gave it their seal of approval. A considerably lower fraction of those who participated in our poll – less than 13%, said they don't feel like upgrading from their first-gen Galaxy Note only for a slightly bigger screen and a faster processor. Less than 9% said they were disappointed with what Samsung unveiled, and less than 16% said they weren't quite into phablets.