Poll results: Replaceable battery or unibody design - which one do you prefer?
78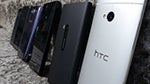 We ran a poll in the beginning of the week, begging the question whether the sealed battery trend that Apple pioneered with the iPhone franchise is such a dealbreaker as portrayed in phones with capsulated unibody designs.
The
HTC One
,
Nokia Lumia 920
and
Sony Xperia Z
come to mind from the latest crop, while Samsung and LG buck the trend with the
Galaxy S4
and
Optimus G Pro
, which feature a removable back cover, hence swappable battery packs.
The poll results were surprisingly tight, with slight preference - 1864 on 1703 votes - going to the
flexible designs with a removable battery
Samsung and LG are betting on. Of course, nobody can say those two are nailing it in the eye candy department like HTC, Sony and Nokia often do with their unibody chassis, so it's a tradeoff like everything else in our mobile experience.
All in all, it seems that for a lot of people (48%) having a sealed battery compartment, as long as the phone's power consumption and endurance stay on course, is not a dealbreaker, but for 52% of you the ability to access the battery would be one of the important factors in their buying decision.
Recommended Stories