Poll results: Is the Samsung Galaxy Note5 worth $300 more than the Moto X Pure?
57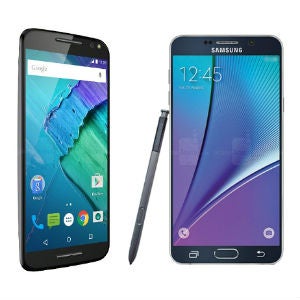 Last week, we pitted a couple of unlikely competitors against each other: the Samsung Galaxy Note5 and the Motorola Moto X Pure/Style. We had no delusions that the Note5 was the better all around phone; it is the peak of top-of-the-line phones after all. But even so, we wanted to know if the benefits of the Samsung Galaxy Note5 really added enough value to
make the device worth paying an extra $300
over the cost of the the Moto X Pure.
It turns out that for the majority of you, the answer was no. The Note5 may be the better phone, but 58% of you said that a $699 outright price was not worth the performance improvements offered by the Note5. On the other side, 35% said that the overall better specs as well as software and hardware additions of the Note5 did make the device worth the extra $300. The final 7% of respondents didn't much care about the question either way, because they had no intention of buying an Android device, or a device at the full upfront cost.
Of course, as with Apple devices, Samsung devices can carry a higher cost simply to make up for the millions and millions of dollars the company spends on marketing as well as more interesting endeavors like the curved displays of the
Edge
devices. But, if you just want a solid device at a reasonable price, most of you said the Moto X Pure/Style is the better buy. That said, we're still pretty sure that the Note5 will far outsell the Moto X anyway.