Poll results: Have you used some of Microsoft's apps for Android?
7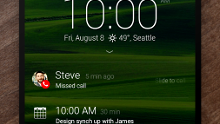 From a lock screen or time-lapse photography, through
full-blown Office apps
and, now, a
launcher
, Microsoft is making strides in the Android world, and we have to say the results are pretty good so far.
The so-called
Next Lock Screen
app provides interactive visibility for the most used actions with your phone - you can dial back with a simple swipe, scroll quickly through your calendar appointments, or simply launch a preset app, all from as early as your lock screen. That functionality is not all, though, as the lock screen replacement is very well made in terms of graphical design, too. You can also customize the lock screen background to your own liking.
The Arrow Launcher is still in beta, but it already offers the same polished graphics experience, with apps displayed on the dock decided by the user. A swipe to the right takes you to the Notes & Reminders page where you can type in a list of things to do and check a box once the task is completed. A swipe in the other direction brings you to a list of people from your contacts list that you recently got in touch with via phone, email or text. There is also the
Hyperlapse app
, which helps you create smooth and stabilized time lapses from the videos you shot with your Android device.
In any case, we were curious if you have tried any of them, and it turned out that just a third of our respondents haven't used any, while a third have used more than one, and a fifth have installed at least one of the newly released official Office apps. The lock screen, time-lapse app, and even the Arrow launcher beta have also seen some love, boding well for Microsoft's forays into the Android universe.