Poll results: Do you own a smart wearable (smartwatch, smartband, etc)?
5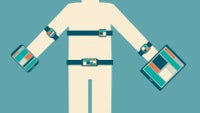 It's been a good two years since smart wearables, including smartwatches, have been readily available in most regions around the globe, yet arguing that the niche industry is anywhere else but in its infancy is out of the question. With Apple entering the space with its own Watch, however, the new form factor has already received some much needed publicity, and that's likely to continue to be the case going forward.
Smart wearables are not mainstream yet, though, and we have our own data point to draw this conclusion from.
According to the results from one of our latest polls
, asking you whether you own any wearables at all, the large majority of you (64.55%) don't own a single wearable — whether a smartwatch, a fitness band, or something else entirely. Still, 23.99% of voters claimed that they carry a smartwatch on their wrist, while 6.95% say they have a smartband. Only 0.38% — or 5 out of 1309 voters — say they have some smart wearable belonging to another category (Google Glass?). Finally, 4.13% of votes were cast by folks who own
at least
two smart wearables.
Our sample is far from large enough and somewhat biased in that, for the most part, it's the truly involved members of our audience that usually take the time to participate in polls, so the results should be taken with those considerations in mind. Still, we have to admit that, even among the most technology-obsessed of us, we didn't actually expect quite so many to say they own a smart wearable. Who knows, perhaps this new category truly has what it takes to stay relevant in the future?