Do you own a smart wearable? - 2015 edition
27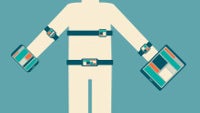 Smart warables — such as smartwatches — have now been on the market for a good two to three years, and manufacturers seem determined to keep at it for as long as necessary. This has already yielded some desired effects — we have at least two established platforms (Android Wear and Pebble OS), and a third one is about to be put to the test. We're, of course, referring to Apple's entry into the still niche market.
Whether you like Apple or not is irrelevant, for it lending its name to the form factor is nothing but good news for consumers and related businesses alike. Not only does Cupertino have a proven track record of raising the bar, but its brand image has already provided the smart wearables industry with some much needed publicity. We don't know if that's going to be enough to push said gadgets into the mainstream, but we'd certainly like to know if and when that happens.
So here's what we'll do. For now, let us know if you already have a smartwatch, a smartband, or any other smart wearable, and we'll make sure to revisit this topic some time down the line and take a head count again. Go ahead and vote!