Poll results: Do you like Samsung's new TouchWiz 'squircle' icons?
53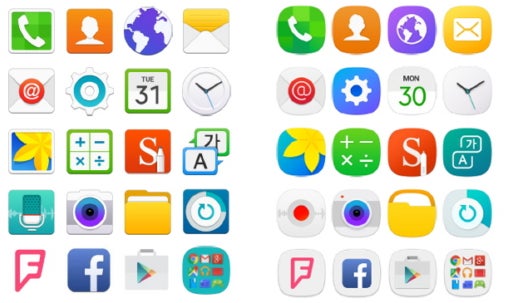 Initial Galaxy S6 (left) vs Galaxy S7 (right) iconography
We asked you last week if you like the new coherent "squircle" iconography of Samsung's TouchWiz that arrives with the Galaxy S7, S7 edge and the latest Android updates to the S6 gang, and it turned out that nearly 40% like them, 18% don't really care what shape are the icons on their phones or they use packs, and about 42% of our 2753 respondents aren't fans.
Samsung's TouchWiz icons and menus have always been a ragtag bunch, as with each subsequent update Samsung turned out with different styles applied to different sections, some round icons, some square, and don't even start us on the look and feel of the notification bar. The
Galaxy S7
and
S7 edge
, however, as well as t
hose Samsung handsets that have received their Android 6.0 Marshmallow update
to a certain extent, are enjoying a new kind of iconography that Samsung rightfully calls 'squircles,' or circles trying to fit in squares.
This is the most visible change in Samsung's updated TouchWiz interface that will stare at you starting from the lock screen, and continue to please your sense of aesthetics everywhere you go, as you can now apply the "squircle" form to third-party app icons as well by turning on the icon theming function from the settings. This way you won't have a browser icon with nice, polished rounded corners, yet a squarish Facebook app icon, for instance, but everything will look like one smooth, uniform interface - a much needed change in TouchWiz.