Poll results: Are you excited about the new iPhones coming September 9th?
76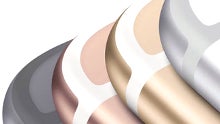 By now we know most everything worth knowing about the new
iPhone 6s
and
6s Plus
that are about to be
unveiled on September 9th
. Apple's new iOS gear will be largely similar in outer appearance to the current crop, as usual, but feature plenty of hardware upgrades on the inside, and we don't mean only the usual faster A9 chipset, or more RAM. There may be an improved 12 MP rear camera, and a Force Touch display, which might not be called Force Touch as on the Apple Watch, but something else entirely.
As usual, the devil is in the details. The camera upgrade will probably be the biggest in iPhonelandia for a few generations back, and the Force Touch panel might change the way we interact with the iOS handsets while not in a revolutionary way, at least on the level of what the interaction with Siri brought to the table. Oh, did we forget to mention there will likely be Motion-style live wallpapers and a new Rose Gold color for the iPhone 6s and 6s Plus?
Yep, sounds like we will have a bigger-than-usual generational upgrade is in store with the upcoming iPhones, and the fact that Apple has rented a way larger auditorium than its typical venues for the event only pours water in that mill. This is why we asked you last week if you are excited about Apple's September 9th event and the new iPhones it will bring. It turns out that about 40% of the respondents are waiting with bated breath about the iPhone upgrade cycle to hit the shelves, while 60% aren't that enthused - after all, we mostly know what the new iPhones will bring from the smorgasbord of leaks anyway, which is both a blessing and a curse.