Poll: If given the chance, would you pick the Note Edge over the Note 4?
38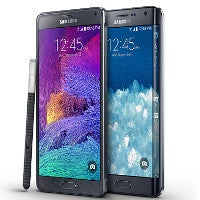 As of a few days ago, the futuristic
Samsung Galaxy Note Edge
is now finally available, but only to fans in Japan and South Korea. While all the major US carriers, including AT&T, Verizon, T-Mobile, and Sprint, have confirmed that they will be carrying the
Edge
alongside the
Note 4
, it is still unclear when the device will come in stock and what kind of pricing we can expect (though it's likely that you'll have to pay more in comparison with the Note 4).
The above puts us in a interesting situation – the Note 4 has been around for a while now, and if you so wish, you could go to your nearest carrier brick & mortar to test it out in person and, of course, pick it up. If you haven't done so, that could be due to a number of reasons, one of which is the Note Edge – some of us would obviously like to give it a chance before defaulting to the Note 4.
The above certainly makes sense, as
both devices are pretty much identical specs-wise
, save for the slightly smaller, 5.6-inch main panel of the Edge (versus 5.7 inches for the Note 4) and the auxiliary screen on its side (which actually means you have more real estate with the Edge). Everything else, from the display resolution, through processor and memory, down to the camera, is identical on both, leaving you with a tough decision to make – do you stick with the traditional phablet that is the Note 4, or do you take up Samsung's challenge and embark on a potentially unfulfilling adventure with the Note Edge and its alien screen on the side? And no, this isn't a rhetorical question – we're actually eliciting answers.
So, if given the chance, would you pick the Note Edge over the Note 4?