Pokémon Go's 2016 revenues reach $950 million
5

Market reasearcher App Annie has revealed the numbers behind the astonishing success of Pokémon Go. In its annual report, the analyst firm estimated that the game raked in $950 million in revenues for 2016, after its initial release on July 5 of last year.
Pokémon Go ranks first as the most downloaded game of 2016 for iOS and Google Play, despite being
banned in China
and a belated release in India. The game is also top dog in the monthly active users chart, and third in combined iOS/Google Play revenue, behind No. 2 Clash of Clans and No. 1 Monster Strike.
App Annie attributes these impressive stats to Pokémon Go's "beloved intellectual property, simple mechanics, real-world augmented reality gameplay, and perhaps most of all, its social nature". The app managed to draw in millions of non-gamers and also enticed players to spend more time on their smartphones in less typical situations, such as using their phone while walking in the park. As for the
total mileage
accumulated by users, a video upload by Niantic last month suggests that players have covered more than 4.5 billion miles or 8.7 billion kilometers.
But perhaps the biggest achievement of Pokémon Go is the fact that it reached $800 million in consumer spend in 110 days, far quicker than any other game on the market. By comparison, Candy Crush Saga reached the milestone in more than 250 days, while Puzzle & Dragons and Clash of Clans respectively needed more than 400/500 days. While Niantic Labs' creation caused some concern with other publishers, App Annie reveals that the success of the game did not appear to eat into other apps' usage or revenue.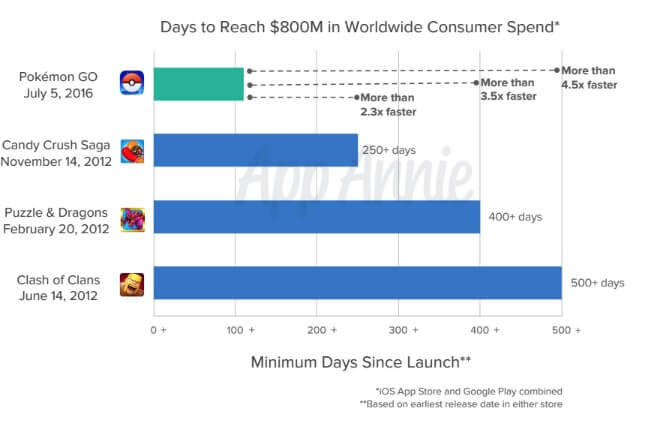 In order to help us with the assimilation of these mind-boggling numbers, researchers from the San Francisco-based company came up with a neat analogy:
To put Pokémon Go's success in a broader perspective, its global consumer spend in 2016 exceeded the total worldwide box office gross of Batman vs Superman: Dawn of Justice.
source
App Annie
via
VentureBeat