Pokemon Go infographic reveals amazing details about the game you love
1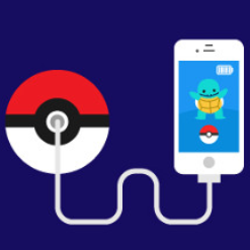 What can be said about Pokemon Go that hasn't already been mentioned? A new infographic has surfaced revealing the history of the AR game from its launch last month to now. According to the data it contains, 25 million users in the U.S. play the game every day for an average of 33 minutes and 25 seconds. That is the average daily usage time in the U.S. for Instagram and Snapchat combined. There are many more fun facts.
The developers involved in the game reportedly invested $30 million in Pokemon Go. By its second week, the game had already brought in $35 million, although Apple takes 30% of the revenue that comes from in-app purchases made through the App Store. Speaking of which, the iOS version of the app generates $1.5 million in revenue daily.
We all know that the game drains batteries. According to the infographic, spend 30 minutes trying to catch Pokemon on your iPhone and your battery takes a 20% hit. That same 30 minutes will burn through 5MB of your data (
unless you're a T-Mobile customer
, in which case the carrier is supplying the high-speed data).
We cut up the infographic into smaller, easier to read bite-size morsels and embedded them inside the slideshow below. Enjoy!
source:
lifehacker