Point and click graphic adventure Gemini Rue expected to cruise on Android devices this week
3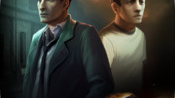 Gemini Rue, a critically acclaimed point and click adventure game, is expected to hit the Google Play Store sometime this week. It is one of those games you either love or hate at first sight. Initially released for PC back in 2011, the sci-fi, cyberpunk adventure with retro graphics has received several awards, such as Gamespy's Adventure Game of the Year 2011 and PC Gamer US' Adventure Game of the Year 2011. A Gemini Rue version for compatible iOS devices was released several months ago.
The story of Gemini Rue is one of its most prominent features. The game takes place in the 23rd century within an alien star system, which has been colonized by humans. The game features two storylines and two playable characters. At the beginning, both have almost nothing in common, but as the gameplay unfolds, the destinies of the two characters interweave in the most unimaginable way. One of the characters, Azriel, is a detective, who is desperately trying to find his long lost brother. The other character, called Delta-Six, is a prisoner, suffering from amnesia, who is trying to find information about his identity and regain his lost memories.
The developer behind Gemini Rue, Wadjet Eye Games, has become known for its gripping PC adventure games over the years. But iOS gamers may only be familiar with two of its games, Gemini Rue and The Shivah. Yet, it looks like Wadjet Eye Games is looking to port more of its games to the mobile platforms.
Download: Gemini Rue (
iOS
)
source:
PocketGamer
,
more