Plume for Twitter tweaks its UI for 7" tablets
Plume for Twitter is one of the best Twitter clients available for Android, but until now, it hadn't been all that great on tablets, especially the new Nexus 7. But, the new update to the app makes it a much nicer experience on 7" tablets. The update was pushed out to the Google Play Store yesterday, and is definitely a welcome sight for Nexus 7 users.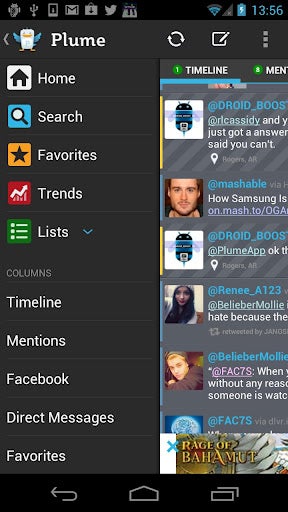 The main addition to the app on 7" tablets is the side menu bar, which seems to be the go-to addition for most apps these days. The sidebar adds quick links to Home, Search, Favorites, Trends, and more. It's a nice addition, but after seeing the sidebar in an app like
Slices
, it feels a bit light. It still makes navigation a lot easier, which is the aim of this update.
The update also adds a simple draft system, which will automatically save and restore your posts, so you won't lose posts any more. And, even though this is primarily a Twitter client, it does support Facebook. And, the update adds the option to upload pictures to Facebook along with the existing Facebook options.
If you want to try Plume, it's available for free in the
Google Play Store
, and the upgrade to ad-free will cost you
$4.99
.
Recommended Stories