Plan to show 3 more episodes of Breaking Bad via mobile devices shot down
13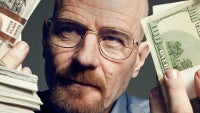 A couple of weeks ago, the show that many consider the greatest drama in television history came to an end (SPOILER ALERT) as Breaking Bad concluded its run with the amazing image of the camera zooming out on teacher turned meth kingpin Walter White's lifeless body while Badfinger's Baby Blue played in the background. It was a perfect ending to the series. Or was it?
A published report on Wednesday said that Dreamworks Animation offered the producers of Breaking Bad $75 million for a three episode run that would have been limited to mobile distribution. The episodes would have been available in 6 minute pieces, according to Dreamworks studio boss Jeffrey Katzenberg. The former Disney executive wanted to charge 50 cents a day for 30 days which would have come out to $15 for all three episodes. Katzenberg said that he believes 10 million people would have downloaded the $15 package. That's reasonable considering that 10.3 million viewers watched the last episode on AMC.
The producers rejected Katzenberg's proposal which left the studio chief frustrated, contemplating the profits Dreamworks could have scored, even paying $25 million an episode. Based on his prediction that there would be 10 million people signing up for the episodes, Katzenberg estimated that Dreamworks would have taken in $150 million, or twice the cost to the studio.
"That's $150m, so the $75m I was prepared to pay would have delivered a 100% return on investment. And I'm trying to get people to think about this space in a new way by telling that story. It's emblematic of an opportunity coming."
-Jeffrey Katenberg, Dreamworks Animation
Even without Breaking Bad, Katzenberg sees the mobile space as wide open for some type of programming "
We used to fill it with Tetris. Now we're going to fill it with rich media. To fill this space that exists is this enormous, enormous, enormous untapped opportunity,"
he said
.

source:
SlashGear