Pixel pushin' - here are the ARM Mali GPUs that will go into your next Galaxy
16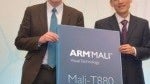 The Mali series of GPUs is ARM's complete multimedia solution for "system on a chip" type platforms embedded in smartphones, tablets, and SmartTVs. ARM splits its GPU lineup in two tiers, Cost Efficient and Performance Efficient. High quality graphics are a goal for both, but cost-efficient units try to make the most out of a small die area and target low to mid-range devices. Performance-efficient units are designed to bring the highest performance levels to premium devices while maintaining energy efficiency.
Another advantage of Mali GPUs are their ARM architecture benefits. They integrate easily with the ubiquitous ARM cores and image signal processors found in most mobile SoCs, and they benefit from a pre-optimized software stack and bandwidth savings between the different components. Each processor's Android driver works efficiently with other ARM drivers out of the box, which greatly eases manufacturers when it comes down to optimizing, updating, or even putting together a processing platform.
According to ARM's data, Mali GPUs are found in over 50% of Android tablets, and over 20% of Android smartphones. Although this data is probably a little outdated, as keeping up with mobile device growth is no easy task for data specialists, it is representative of Mali GPUs' popularity.
Samsung has been a client of ARM's GPU division for its Android-running products at least since the Galaxy SII era. Although Samsung kept employing Qualcomm SoCs for its flagship Galaxy S3, S4, and S5 smartphones, it's made good use of Mali GPUs for mid-rangers such as the Galaxy S5 Mini, and entrusted the Mali-T760 GPU for its 2015 flagship phone, the Galaxy S6. The healthy Samsung-ARM partnership is set to continue over the next five years, as the two companies
signed a huge licensing deal
. The agreement entitles Samsung to ARM's current Mali T-800 series of graphics chips, as well as upcoming GPU designs that the chip designers are yet to announce.
In this article, we'll have a brief look at the ARM Mali T-800 series of GPUs that will probably end up in Samsung's upcoming smartphones and tablets across the three price ranges. The T-800 series comprise the Mali-T820 and Mali-T830 at the cost-efficient end, and the Mali-T860 and Mali-T880 at the performance end. Needless to say, ARM's latest developments are full of graphics potential, so let's dive right into the stuff!