Pixel Launcher will have a manual dark/light theme switch in the future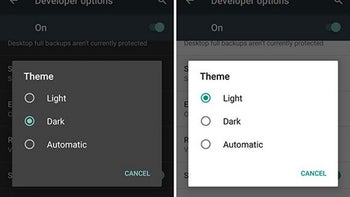 If you want a full dark theme for the Android system, you're not getting it from Google and that doesn't appear to be changing. But, it does look like Google is planning to give users at least a bit more control over the dark theme in its own
Pixel Launcher
in a future update.
Currently, the dark theme will automatically turn on if your phone's wallpaper is dark enough and will change the folder backgrounds, app drawer background and the Quick Settings menu to dark colors. More control over the dark theme in the
Pixel
Launcher has been an issue requested by users, including an official request via Google's issue tracker in March. Today, Google officially confirmed that it will be adding a manual toggle to the Quick Settings menu to allow users to switch back and forth between the dark and light themes.
As yet, it's unknown when the new settings toggle will arrive. The reply from Google in the issue tracker simply says "it will be available in a future Android build." It seems reasonable to assume that since the issue is labeled as part of the Android P developer preview, the feature will go live with the full Android P release, but because it's actually a change to the Pixel Launcher itself, Google could push that out as soon or as far into the future as it wants.