First Pixel 4 XL teardown reveals a 'magic rectangle that knows your every move'
7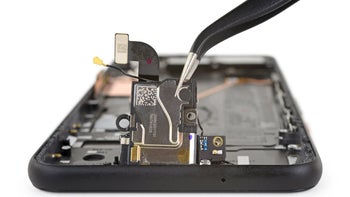 The
Pixel 4
, just like the
Pixel 3a
before it, may have been the most thoroughly leaked handsets in recent memory, and yet there are still some secrets and mysteries to be found under the hood, note the tech pathoanatomy junkies over at iFixit.
They took the Pixel 4 XL apart, and found the smallest radar chip commercially available to be behind the touted touchless navigation. Google uses the comparatively wide top bezel to revolutionize its Pixel phones' interface navigation by introducing the gesture recognition platform it only had in prototype form so far, dubbed Motion Sense.
The chip that makes it possible comes from Google's
Project Soli
undertaking, and employs "
a new sensing technology that uses miniature radar to detect touchless gesture interactions
." And miniature it is, as iFixit had trouble figuring out where it was, until it pried away a small package containing the earpiece, mic, and light sensor. That's where the teeny tiny Soli chip was hiding, a remarkable engineering exercise by Google.
"
Although radar technology has been in use for a long time and seems simple enough on paper, we're at a loss as to how Google stuffed the entire system into a tiny featureless rectangle with no moving parts
," marvelled the tech surgeons, and explained the complex radar technology employed with the simple "
magic rectangle knows your every move
."
The other interesting bits inside are a proprietary Pixel Neural Core chip that does the heavy image-analysis lifting, a quad Knowles 8508A audio processor that ensures
flawless Live Transcribe
performance, and Google's custom Titan M security chip. The verdict? A 4/10 repairability score, so you'd better leave all fixes to the pros out there.