Pixel 2, Pixel 2 XL software update fixes voice call clicking, adds saturated display mode
3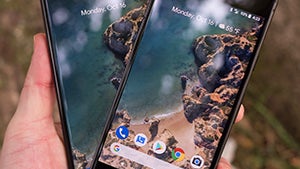 A new software update for the Pixel 2 and Pixel 2 XL is out now, and aside from bringing a fix for the Wi-Fi-related Krack vulnerability, it's also aiming to mend the devices' audio and display problems.
As a refresher, numerous reports about
clicking and cracking in the earpiece
during voice calls and OLED display burn-in have marred the launch of Google's latest flagships. Oh, and let's not forget that some devices are
shipping sans an operating system out of the box
.
In particular, a new toggle in the display settings menu allows users to choose between three separate display modes - boosted, natural, and saturated. The saturated mode for the Pixel 2 display is pretty similar to the first Pixel's display colors, which can be easily perceived as more punchy and vivid.
"The saturated mode puts the display into an unmanaged configuration, similar to how the Pixel 1 operates. The colors will be more saturated and vibrant, but less accurate (similar to most other smartphones which display more vibrant colors): we give consumers the option to choose the colour saturation,"
Google said.
OLED burn-in has also been addressed in the latest update by employing different software enhancements that should prevent the display from exhibiting any burn-in issues overtime.
"As we mentioned in our deeper dive, this update also brings planned UI changes which extend the life of the OLED display, including a fade out of the navigation buttons at the bottom of the screen and an update to maximum brightness. These features have been carefully designed so as not to detract from the user experience. Since all OLED displays experience some degree of decay over time, we'll continue to make enhancements which maximise the life of your Pixel screen."
That's essentially an answer to users' woes about the visual and audio-related issues Pixels. The update will be rolling out to all devices this week, so don't freak out if you don't get it today.