Picture leaked allegedly showing BlackBerry London packaging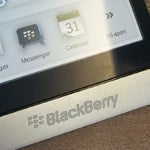 So it comes down to this for RIM. The
BlackBerry 10 OS is make or break for the Canadian company
, and the first device expected to hit the market using the software is the BlackBerry London.
BerryReview
has just obtained a leaked photograph that claims to show the packaging for the device. The picture on the box shows a handset with corners cut at an angle similar to say, the Motorola PHOTON 4G. The picture on the box
does resemble an earlier leaked photo said to be RIM's first BB 10 model
. Understandably, the source wanted to remain anonymous.
On Tuesday, BlackBerry Jam is to start in Orlando, running through the third of the month alongside the BlackBerry World Conference. At BlackBerry Jam, RIM is expected to give away
2,000 units of a special developer's handset that will be loaded with BlackBerry 10
. The devices will
not have the same look or navigation as the BlackBerry London
will have when released, and have been produced just to get the new OS into the hands of developers in the hope that some of them will be inspired to write some great apps for the OS.
With nothing short of the company's future existence at stake, RIM needs to pull out all of the stops here for the BlackBerry London, even when it comes to something that might seem like an afterthought like the packaging for the phone.
source:
BerryReview