Pick the modern phone's single killer feature: 4G or dual-core? (poll results)
10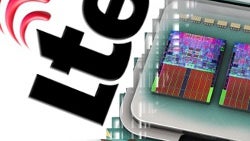 Just last week, we asked you to pick the modern phone's single killer feature between a
dual-core processor and 4G connectivity
. The votes are in and there is a clear winner – most of you were ready to trade the several megabits of download capacity on 4G and preferred the unmatched performance of a dual-core chip. Sure, some day in the near future, you'd be able to get both 4G LTE and dual-core in a single device, but for the time being the productivity boost of two cores lured
nearly 60% of you
, or 456 votes. It seems that a
dual-core
chip gives most of you a sense of longevity for the phone, a noteworthy feature in a fast-paced environment where producers have narrowed the product cycle to a year, often launching significantly better handsets every six months.
Over 40 %
, or 305 of the votes, however, appreciated the fact that
4G speeds
are multiple times faster than current 3G technology, and even with a narrower coverage, data caps being introduced all around and the battery hog that 4G is, picked that option. Some of you mentioned that they are ready to jump ship to 4G as their only Internet service once they get coverage in their area and we can see why with the technology reaching average speeds of above 5Mbps. But there's one thing that unites everyone - the poor battery life that all of you are afraid of. That seems to be one of the reasons why we don't see more 4G-enabled phones, so here's to hoping that next-gen devices will not only incorporate the two features, but will also be able to make it... at least through the day.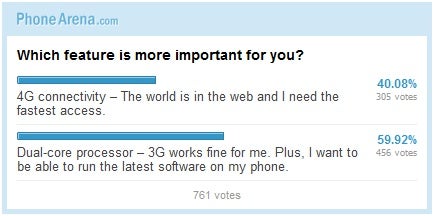 Recommended Stories