Photos and manual of the Wi-Fi-only Xperia Z Ultra tablet appear at FCC, still waterproof
11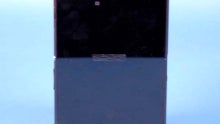 We heard that Sony's take on the small tablet arena would simply be to
issue a Wi-Fi-only version of the Xperia Z Ultra
, and it seems that the SGP412 device that we
caught in November making the rounds at the FCC
, is precisely that beast.
As such, it will sport a 6.4″ screen diagonal, Snapdragon 800 processor, 8 MP camera, 2 GB of RAM, 16 GB of internal memory plus a microSD slot, and have a 3000 mAh battery, all wrapped in a waterproof body, but without a baseband radio for cellular connectivity.
Speaking of waterproof, the FCC updated its listing for the Sony SGP412 device with actual photos, and we can easily see an Xperia Z Ultra chillaxing in a pool of water during testing of its waterproof claims. The battery is also shown, being a slightly less capacious unit than what we have in the version with cellular connectivity, so all that is left now is to wait for the eventual MWC announcement of a Wi-Fi-only Xperia Z Ultra, with the respective price reduction one would be expecting from a version without the expensive baseband radio.