Photos show off Portrait Lighting camera effects on iPhone X and iPhone 8 Plus
21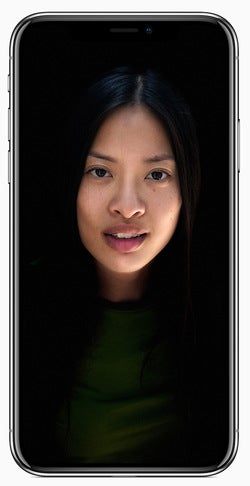 Portrait Lighting on the iPhone X in action
Chances are that you're already familiar with Apple's Portrait Mode – a feature that adds artistic blur (bokeh) to the background of your images. It was introduced with the iPhone 7 Plus, leveraging its dual camera system to produce the effect. At today's keynote, Apple announced a new addition to its Portrait mode called Portrait Lighting. As its name suggests, it allows the lighting of the image to be manipulated for more dramatic effect.
Sounds cool and all, but what do photos with Portrait Lighting applied look like? Well, in the gallery below are a few samples that Apple shared. As you can see, Portrait Lighting comes in multiple styles, depending on the effect you're looking for. Studio Light, for example, brightens the face of the subject, while Contour Light manipulates highlights and shadows to bring out your model's facial features. For more striking results, the Stage Light mode puts whoever you're photographing against a flat, black background. The effect can be removed or modified even after the shot has been taken.
Keep in mind that these aren't mere filters. These effects are applied using real-time image processing and manipulation enabled by the dual-camera system and by Apple's hardware inside the latest iPhones. Perhaps that is why there are no clues indicating that the iPhone 7 Plus would get Portrait Lighting once iOS 11 is out. We hope that's not the case.
While Portrait Lighting is still in beta, the results in the samples below seem promising. What do you think? Does this look like a feature you'd use?
More iPhone 8 and iPhone X news: