Photo of the 3D-enabled iPhone 5 is a poor attempt at Photoshop
23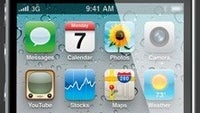 The day would simply feel incomplete without a spicy rumor about the next iPhone, and today's is a spicy one indeed. According to a photo that surfaced on the web yesterday, the next iPhone iteration will be known as the
iPhone 5
, but the more interesting part is that the smartphone will pack
dual cameras
on its back, presumably
for capturing 3D photos and videos
.
Now, we cannot blame you if you are reading these lines with a skeptical look on your face even though this isn't the first time when we hear rumors about
Apple working on a 3D technology
of some kind. The thing about the aforementioned photo is that
it has been forged
... poorly, and it doesn't take a rocket scientist to figure that out.
The first thing that we have to point out in order to debunk the 3D-enabled iPhone rumor is the "5" that has been added to the name of the device. Not only that the digit is in a different font than the one that Apple uses, but it simply makes the whole "iPhone 5" title look off-center. Besides that, the cameras do not appear to be parallel to the top edge of the smartphone, and if they really were meant to shoot 3D content, chances are the sensors would have been placed in landscape orientation like those on the
HTC EVO 3D
and
LG Optimus 3D
.
However, the most revealing clue suggesting that we are dealing with a forgery became obvious as soon as we boosted the brightness and increased the gamma level of the photo. The area in the top corner of the device has an unusually consistent color, which means that somebody simply took a photo of an iPhone 4, duplicated and moved around its camera, and "masked" the spot where the lens is supposed to be originally.
Well, sorry to disappoint you, fans of glasses-free 3D goodness, but this is definitely not a 3D-enabled iPhone that you see in the photo. Luckily, some folks are putting a lot more effort into predicting
what the next iPhone might look like
.