Phones 4U lands a deal for the LG Optimus 3D with a white paint job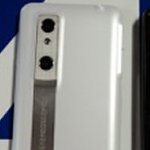 There is no hiding it at this point, but devices donning white paint jobs are increasingly becoming the color of choice for some people. We've seen numerous devices end up sporting the pristine looking paint job, but the device that's taking things to a whole new dimension is gearing up to do the same.
Apparently,
Phones 4u
has managed to land a deal with LG to offer the
LG Optimus 3D
covered in that oozing color of
white
in the UK only. Granted that we now find a page strictly for the white LG Optimus 3D that boasts all of its specs, we're nowhere close to knowing exactly when this thing is expected to land aside from the notion of it arriving in "
the coming months
." Nevertheless, it'll surely still be a prized handset thanks partly to its no-glasses required 3D display.
Of course, if you simply can't wait for the LG Optimus 3D in white, you can just decide to pick up the regular black version when it arrives – and be one of the first to experience 3D goodness on a modern smartphone.
source:
Phones 4u
via
Pocket-lint