PhoneArena writers' favorites: feature phones
26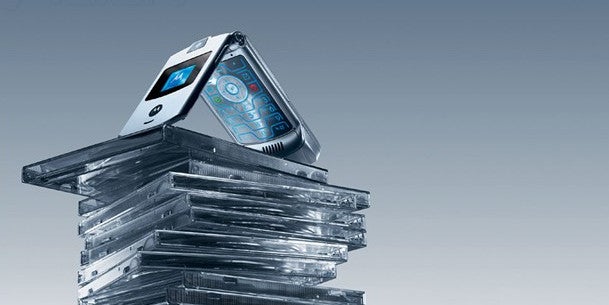 When it comes to phones, most of us here at PhoneArena are hooked up on the latest Android or iOS offers, and we love the versatility of the smartphone experience. But since most of us here are 80s and 90s kids, we also keep a soft spot for devices that we used way before smartphones were the norm.
In this article, we've decided to share our favorite feature phones - devices that we've come to love and remember - be it for their unique design, functionality, or some other sentimental reason. In this trip down nostalgia lane, we look at phones from brands that are long extinct: Siemens and Sony Ericsson, and even good old Nokia that now deals only with networks (hopefully, it will come back to phone making in late 2016).
Alan: LG Voyager
A feature phone with a lot of extra functionality
While just a feature phone, it had an HTML browser, a touchscreen (a generous 2.81 inches in diagonal) inside the clam build and outside as well. The screen was hinky and the device was hardly the iPhone killer that Verizon had in mind, but I still fondly remember the device. At the time, it was considered to have a rather large 950mAh battery, which seems quite low by today's standards, though. You can read our full-on
review of the LG Voyager right here
.
Chris P: Samsung SGH-D900I Ultra 12.9
The SGH-D900l Ultra 12.9 is the kind of device that I had to look up before I could be sure of its exact name, so terrible was Samsung's naming convention back then. Still, back in 2007 I thought it was a big deal, and I'll always remember it for its slick, premium looks.
All about the hardware and a neat slider
For me, the D900l was all about the hardware. The slide-out mechanism, to this day, works perfectly, despite plenty of abuse, and that was definitely the part of the phone I liked most. The movement was (and still is) fluid and distinct, and I'd often find myself sliding the keyboard in and out as I was talking to people, so great did it feel.
Compared to what Samsung has on the market today, the SGH-D900l Ultra 12.9 seems quite insignificant, but the fact is that, for the longest time, I couldn't help but think that Samsung just didn't make hardware like that anymore. Thank god for the Galaxy S6 and S6 edge.
Daniel: Sony J5
Jog wheels were all the rage
The Sony J5 was a stylish device in times when phones came with much less visual appeal than current-day devices. Sure, it had an antenna that was sticking out of its top (that was quite the necessity back in the day), but as a compensation for this slight inconvenience, the Sony J5 was equipped with a cool jog wheel that provided a lot of convenient handling for games and just for navigating around menus.




And given that just recently, the Apple Watch resurrected a similar concept for navigation, we might just have been looking into the future from 2000, the year when the Sony J5 was released.


Florin: Sony Ericsson K770
Camera on steroids... in 2007
The K770 is a Sony Ericsson Cybershot candybar from 2007. I bought it in 2008 - it was my first camera-centric phone. The K770 was really well made, it felt great in hand, and I loved the sliding mechanism that protected its rear camera (I think I've played with that way to much in the first days after I got the phone). Speaking of it, that 3.15 MP camera was quite good for a non-flagship back then. I actually used the K770 until early 2011, as a secondary phone, next to my first Android smartphones. It worked perfectly fine, but I eventually gave it away.
John: Sony Ericsson T68i
Crazy design and the first attachable camera
The Sony Ericsson T668i is
the
phone with many firsts for me: first color screen, first attachable camera, first 'enhanced' phone functions (ie WAP browser). It was also an iconic device for the time with a crazy design with a lot of curves and character, a great color display (quite the rarity in those dark ages of mobile techonlogy), and so much more. It was probably the camera, though, that showed us a glimpse of the future, though: with this attachable unit, you no longer needed a separate device to shoot pictures, you could just do it with your phone.
Luis: Siemens M55
Playing Splinter Cell in 4096 colors
With its sporty design and vibrant orange styling (everyone bought the orange one, no exceptions), the Siemens M55 was the coolest phone a 14-16 year old could possibly have. It had red flashing LEDs on the side, it played Splinter Cell in 4096 colors, and it had the most unforgiving keyboard imaginable... which only made one love it more!




My fondest memories with it are wallpapering the tiny screen with a photo of a then-girlfriend (the screen was horrible, but love/hormones filled the missing detail and color, I guess), and discovering a Russian hack to increase the M55's internal memory from 1.5MB up to a whopping 3MB. Hey, that's a 100% increase!
Nanko: Motorola Aura
Exquisite approach to design that you no longer see
The Motorola Aura is a device released back in 2008 and it's a brutal high-end offer with a full 360-degree round screen and remarkable design. Keep in mind that the Motorola Aura was not a mass-produced device, it was not a 'flagship' in the mainstream meaning of the word - it was a truly premium phone with nearly double the price of a then flagship handset. Just look at it, though, at the careful designing and attention to every small detail - that is the Motorola Aura.
Nick: Motorola Razr2 V8
Can your iPhone do that?
This Motorola flip phone is an all-time favorite of mine for a number of reasons. First of all, it was one of the most attractive handsets of its age - thin, light, and shiny. Also, the flip design was very practical, in my opinion, and made the phone fun to use. The feel of its keypad was another thing I loved about this phone. Every key was easy to feel and clicked satisfyingly when pressed. Oh, and the built-in speaker was of excellent qualty. And last but not least, pressing a button on the phone's side during a call made a recording of it.




Can your iPhone do that? I don't think so.



Paul: Siemens C55
The C-class
The Siemens C55 was a compact and ergonomic phone with suave aesthetic look, a nice-sounding MIDI-to-audio converter for some cool custom-made ringtones, and most importantly a C-class (read - affordable) price tag. It could not go on equal footing with the flagships of the time, but the value if offered for the price at the time was truly remarkable. All of that is what makes me keep a soft spot for the Siemens C55, a phone from a company that stopped making phones way too long ago.





Peter K: Nokia 6230
Three-day battery life!
Although not my first feature phone ever, the Nokia 6230 was catering to all of my whims for more than 3 years, which makes it the phone I've used the most in my life. As with all such feature phones, one had a pretty limited set of features, but the on-board ones were perfect for my needs: an MMC card slot for my music, WAP support to remain connected, as well as rock-steady three-day battery life are just a handful of my favorite features of the Nokia 6230.





Ray: Motorola RAZR V3i
My favorite featurephone is the
Microsoft Kin
. Just joking; it's the Motorola RAZR V3i. I know it's hard to get excited thinking about featurephones nowadays, but I think the featurephone era did give birth to some truly exceptional handsets – ones that have somehow managed to retain their ability to delight us to this very day. Such is the case with the RAZR V3 – one of the most amazing and successful phones ever made.
Half-machine, half-art
Like most industrial masterpieces, this phone is half-machine, half-art. It's full of character, it has soul – it provokes emotion in those lucky enough to behold it. It's not perfect, and it doesn't need to be. After all, neither of our loved ones are perfect, but we love them nonetheless. For their looks, for who they are, for their peculiar strangeness even, and for life. Such are the classic works of art – they live on, long after their time has passed. And in a world full of big touchscreen slates, apps and multi-core processors, I'd still far prefer a RAZR V3 to any me-too smartphone out there.
Victor: Sony Ericsson T610
I've tried juggling some of the nice feature phones in my mind, and it was quite hard to make up my mind and settle on one definitive device. That is until I remembered about the Sony Ericsson T610. This little chubby buddy was the object of my technological desires and cravings way back when I was on a tight student budget and I devoured reviews and other information about it feverishly. There was this strange appeal to its design - it was definitely a chubby phone, but with a lot of character and a nice, two-tone color style, but it was the UI that I really admired the most.
Dreaming about its zippy colorful UI
The T610 had a display that showed vibrant colors and a neat joystick that made navigation in the menu extremely pleasant and fast. The interface was very intuitive and quick, and the T610 set a high standard with its 0.1-megapixel camera that captured 352 by 288 pixel photos (remember those times?). It also had Bluetooth connectivity so you could hook up a headset for that futuristic feel. All in all, the Ericsson T610 was a little miraculous box that showed the way forward for technology. It's crazy that this reality that we've been dreaming of just a few years ago is now finally here.